Mark began sailing at a very young age and started his own yacht delivery business in 1987.  During the past twenty years Mark has gained a wide range of experience in both sail and power from 7 to 30 meters in length.
In 1988 Mark completed he RYA Instructor course and then became an RYA Examiner in 2003
For the past 17 years Mark has worked for several training schools on the South and East Coast and has cruised extensively throughout Northern Europe, the Mediterranean, North Africa and the Caribbean, crossing the Atlantic under sail.  Racing is also an important part of Mark's sailing having competed in ARC 2003, Cowes Week and 4 Fastnet races..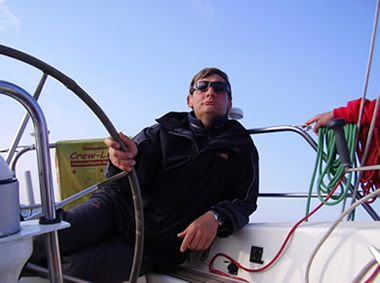 "Mark was a great teacher, very patient and very informative, i first enrolled on the competent crew course, then the following year i did my day skipper, now own my own yacht and regularly go sailing. Thanks Mark!"
"I've done several courses with Mark who I found to be a great instructor. He is knowledgeable, kind, patient and very professional. He's great company too!"​
"Mark was my very first sailing instructor and I can't recommend him highly enough. Professional, always calm and with a great knack for building your confidence... even if you've never sailed before."